Posted on Friday, August 25, 2017 at 12:48PM by GenePattern Team
UPDATE 4:00PM EDT, Aug 25, 2017
Both the public server and the internal server are back online, and users can successfully run jobs and login to the GenePattern Notebook Repository.
We are continuing to monitor the situation and there may be a few more, brief, periods of downtime as we continue to improve the performance of the servers.
We recommend holding off on any big data pipelines or batch jobs until Monday.
If you have a failed job, which has a tag and/or comments which indicate a system error (see below), this means that the job was unrecoverable when the server was restarted.
We apologize again for any inconvenience.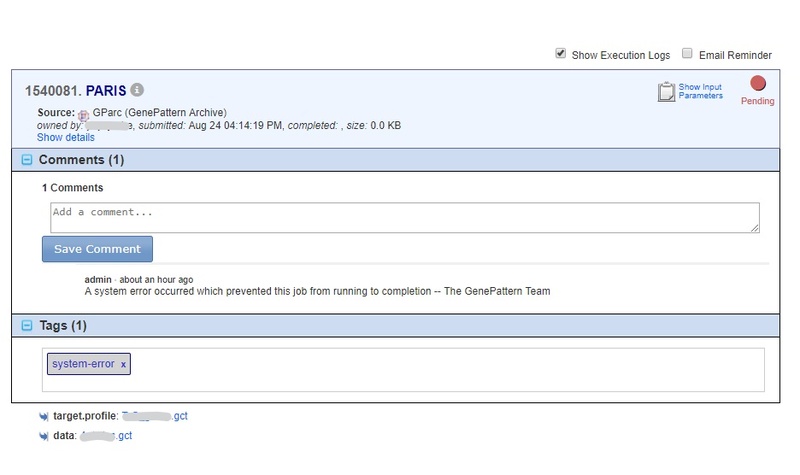 ---
The Broad Hosted GenePattern Servers, which are located at the following URLs:
genepattern.broadinstitute.org (public)
gpbroad.broadinstitute.org (internal to Broad)
are both currently experiencing performance issues which have made them unavailable.
This has also blocked the ability for users to login to the GenePattern Notebook Repository located at https://notebook.genepattern.org. You may still run a local GenePattern Notebook, against a server other than the two listed above.
The GenePattern team is working diligently to resolve these issues as quickly as possible.
We apologize for an inconvenience this may be causing.