Released August 7, 2015
GenePattern 3.9.4 requires Java 7+*. Click on the links below for details on the updates.
System requirements and known issues are detailed on the following pages.
For modules which have beta versions: when users select or search for the module they will now be shown the latest production version of the module by default, and given the option to view/use the beta version.
A production module which has a beta version available will look like this:

Clicking on the text will take you to the beta version of the module, which will look like this:

A refresh button has been added to the Files Tab, in order to refresh the list of files.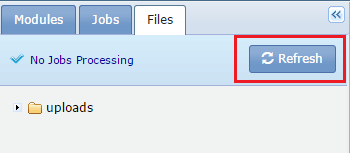 Citation information has been added to the front page of the GenePattern server, making it easier to find. The information is also available on the front page of the GenePattern website (http://www.genepattern.org).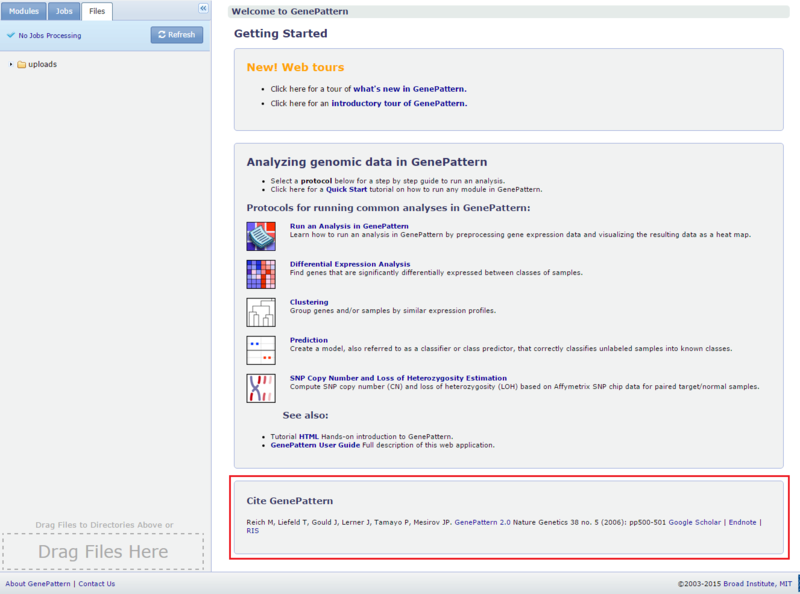 A module's Categories and Task Type are now listed separately in its properties, whereas before they were being combined under a single Categories property, leading to occasional duplication due to legacy modules.
Improved congestion indication on the GenePattern server at Indiana University, such that it better aligns with the average load on that system.
Fixed a broken link in step 2 of the HierarchicalClustering protocol.
The GenePattern version number is now automatically updated when GenePattern is built, and is no longer a value that can be customized. This allows administrators of local Mac servers to update GenePattern with the new installer.
Improved support for running a GenePattern server on Java 8. *However, note that this is not yet the officially supported Java version for the GenePattern.

Fixed a bug which caused cloning of modules and pipelines not to work.
Fixed issues with JSP pages.

As of GenePattern 3.9.3 the Windows installer has been deprecated. The Windows installer for GenePattern 3.9.2 will remain available on the download page under "Older GenePattern Versions".
Please contact us with any questions or comments.